Many thanks to all of you who visited us on May Bank Holiday Monday. By common acclaim it was a happy day with wonderful weather and a lot of colour and scent in the garden. This was followed by an equally successful visit by a group from Stamford. We always enjoy it when people like to make a special outing to the garden, stopping for a cup of tea or coffee in the process. We have several more private groups booked to visit between now and the end of June, so if you're thinking about a trip here next year, why not put us on the list.
Our next garden opening for the NGS* is on SUNDAY 20th MAY from 2.00-6.00pm and there's every sign that this fine spell of weather will remain into next week. The garden is moving across from bulbs and early Spring flowering to peonies, irises and early roses. There will still be some flower on the magnolias and cherries with new foliages giving a wonderful contrast all round the garden. Please come and see for yourselves!
See below pictures taken in the garden today …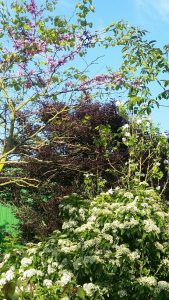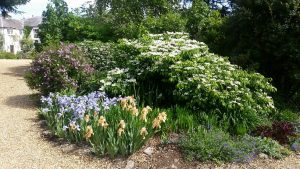 *The NGS is a charity which has become the largest donor to a number of nursing organisations like Macmillan and Marie Curie. They need our help, as in time many of us will need theirs.
Entry to the garden on Sunday is £4 per person, children under 16 free. Tea will be available in the Church sold in aid of the village shop.